Slide 1 of 1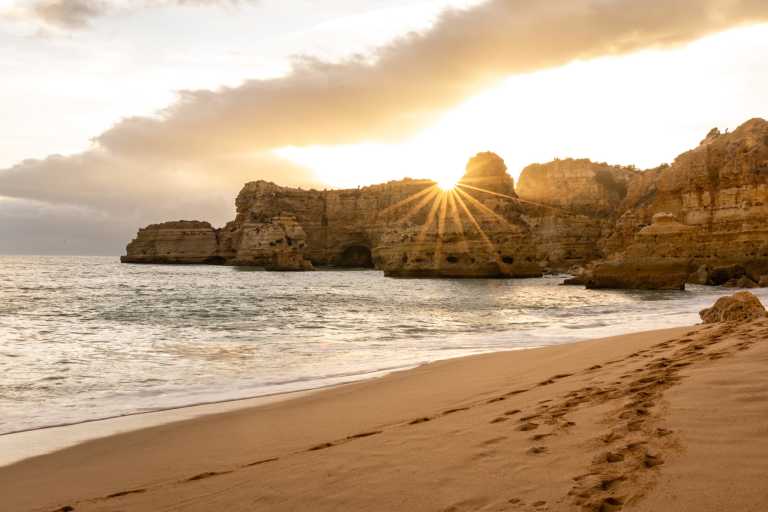 Algarve Unveiled: A Coworking Retreat Exploring Nature, Culture, and Culinary Delights
Coworking trip
15 days
2 stops
5 Mates
Portugal
What's special?
Luxury Living
Cultural Exchanges
Local Experiences
Algarve Coworking Retreat: Where Work Meets Paradise Dates: 4th Feburary 2024 Duration: 18th February 2024 Minimum Tripmates for trip to happen: 5 (less than 5 TripMates confirmed before January 3 means it will be cancelled) Join us for an unforgettable coworking retreat in the stunning Algarve region of Portugal. Escape the daily grind and immerse yourself in a unique blend of work, culture, and cuisine in a relaxed and inspiring environment. Cowork in Tranquility: Say goodbye to the usual office routine and hello to a relaxed coworking space. Fuel your productivity in a serene setting, perfect for remote work, creativity, and collaboration. Indulge in Portuguese Culture and Cuisine: Let your senses feast on the rich tapestry of Portuguese culture and cuisine. From traditional seafood delicacies to vibrant markets, you'll savor every moment of this culinary journey. Off-Season Algarve Bliss: Experience the Algarve in all its off-season glory. Take leisurely walks on pristine beaches, and explore the enchanting natural cave formations that dot the coastline. Optional Extra Activities: Customize Your Adventure Tailor your retreat experience by choosing from an array of exciting optional activities, all to be decided amongst the group: Visit Portuguese Villages: Immerse yourself in the authentic charm of local villages, discovering their unique stories and traditions. Zipline from Huelva (Spain): Feel the rush as you soar across the border to Portugal, taking in breathtaking views and making memories that defy gravity. Explore Sagres and Aljezur: Dive into the captivating history and natural beauty of Sagres, and then wander the picturesque streets of Aljezur, where past and present meet in harmony. Wine and Tasting Tours: Raise a glass to local flavors with wine and tasting tours that introduce you to the region's finest libations and culinary delights. Dolphin Watching: Embark on a marine adventure to witness these majestic creatures in their natural habitat, a truly unforgettable experience. Surfing or SUP: Catch some waves or paddle on tranquil waters, experiencing the thrill of surfing or the relaxation of stand-up paddleboarding. This coworking retreat is your passport to a harmonious blend of work and play in the mesmerizing Algarve. Customize your experience with optional activities that suit your interests and pace, ensuring a journey as unique as you are. Don't miss the chance to join us on this one-of-a-kind retreat, where the Algarve's beauty, culture, and cuisine await your exploration. Book your spot now and prepare for a transformative experience that combines work, relaxation, and adventure in a coastal paradise.
Meet Your Host: Bridging Tech, Social Impact, and Wanderlust Greetings, fellow adventurers and remote work enthusiasts! It's a pleasure to introduce myself and give you a glimpse into what makes this coworking and travel experience truly unique. By day, I'm immersed in the world of ERP software, working diligently for a company that specializes in streamlining operations. But my true passion lies in the realm of social impact. In my spare time, I'm deeply engaged in social impact projects focused on economic development in Africa. I also find great joy in consulting with social enterprises, harnessing the power of business for positive change. It's these endeavors that fuel my soul. Beyond my professional pursuits, I'm an ardent traveler, continually seeking new horizons and cultural encounters. Portugal has been my home for seven incredible years, affording me a deep appreciation for this nation's beauty, culture, and people. Now, I'm excited to open the door and invite others to share in the wonders of Portugal, especially those seeking a tranquil environment to work and explore. My idea of a perfect evening is a quiet one, allowing nature's beauty and serenity to take center stage. While I personally do not partake in alcoholic beverages, I wholeheartedly respect individual preferences. That being said, our primary objective is to create a peaceful and conducive work atmosphere, so boisterous parties won't be on the itinerary. Instead, we'll focus on fostering connections through social gatherings that encourage relaxation and camaraderie. The flexibility of this experience is its hallmark. All activities are entirely optional, and as a group, we'll decide which adventures to embark upon. You're encouraged to follow your own interests and desires, forging a unique path during your stay. What we do expect, however, are positive vibes, an open-minded spirit, and the genuine exchange of ideas as we explore the surrounding wonders. Food, to me, is not just sustenance; it's a universal language that brings people together. I'm passionate about culinary experiences, and I believe they help create lasting memories. So, be prepared to showcase your culinary skills and share your favorite recipes from your home country. We'll plan social dinners at the house, whether it's firing up the BBQ or collaborating in the kitchen, celebrating the rich diversity of our group. As we embark on this coworking and travel adventure, I look forward to getting to know each of you. Let's create lasting memories, share stories, and uncover Portugal's hidden treasures together. Here's to an unforgettable journey filled with work, wanderlust, and wonderful connections!
Welcome to your dream coastal retreat in Albufeira, where relaxation and adventure await at every turn. This enchanting villa boasts a terrace and a refreshing pool, making it the perfect spot to unwind after your beachside escapades. It's perfectly situated just 1.1 kilometers from the pristine Arrifes Beach and Praia de Sao Rafael, offering you the ultimate seaside escape. A Spacious Sanctuary: Step inside this air-conditioned villa, and you'll find four inviting bedrooms, a comfortable living room, and a fully equipped modern kitchen complete with a dishwasher and coffee machine. With four bathrooms featuring a bath and hair dryer, convenience and comfort are at the forefront. Towels and bed linens are thoughtfully provided, ensuring a worry-free stay. Ideal for Co-Living: This villa is not just a vacation home; it's a haven for coworking and co-living adventures. With four spacious bedrooms and an open-concept living area, it's the perfect space for a group seeking both productivity and relaxation. Alfresco Delights: The villa's expansive terrace, overlooking the inviting pool, beckons you to dine alfresco while surrounded by charming gardens. Picture yourself savoring delicious meals, taking refreshing dips, and creating lasting memories in this idyllic outdoor setting. Exploration at Your Doorstep: Within a leisurely stroll, you'll find a convenient supermarket, enticing restaurants, and a selection of breathtaking beaches. For those eager for more exploration, Albufeira's vibrant marina and bustling old town are just a short drive away, offering a plethora of dining and entertainment options. Endless Coastal Adventures: Discover the beauty of Castelo Beach and Peneco Beach, both within a short distance from the villa. Whether you're a sunbather or an avid water sports enthusiast, these beaches have something for everyone. And when it's time to depart, Faro Airport is conveniently located just 48 kilometers away. Your Choice of Comfort: Accommodation options include two shared rooms, each with two single beds, and a private room with a cozy double bed. Rest assured, a good night's sleep is guaranteed. Your oasis in Albufeira is ready to welcome you, promising a blend of relaxation, adventure, and productivity. Don't miss this opportunity - book your stay now and unlock the beauty of Albufeira from your own coastal sanctuary with a pool.
What's included?
Transportation
Accommodation
Car Rental
Your Booking includes free protection from Trip cancellations.
Learn More
Meet Your TripLeader
Phone Verified
Identity Verified
44 Countries
Passport full of stamps, heart full of wanderlust – on a lifelong mission to explore our incredible planet. 🌍✈️ #TravelAddict
You can chat with Daniel once you reserve your spot.
Trip Itinerary
Albufeira
Day 1-15
Embark on a unique coworking adventure in the heart of Algarve, where work meets luxury and relaxation. Our spacious villa in Albufeira is the perfect setting for both productivity and socializing. Throughout the trip, we'll host social evenings, afternoon excursions, and weekend getaways, all decided by the group's preferences. While the primary purpose is to foster connections and collaborate in a relaxed environment, Algarve offers a plethora of exciting activities and fascinating sites to explore. The beauty of this trip lies in its flexibility. You're free to choose whether to join group activities or venture out on your own to explore the stunning surroundings. It's all about personal preference and making the most of your Algarve experience. Join us for a one-of-a-kind coworking and travel adventure, where work, relaxation, and exploration come together in the enchanting Algarve region. Book your spot now and be part of a fantastic journey filled with memorable moments and meaningful connections
Faro District
Day 15
Embark on an epic journey through Algarve's treasures, where every day is a new adventure. Zip across borders from Huelva, Spain to Portugal, starting your trip with an adrenaline rush like no other. Marvel at the enchanting Benagil Cave, stroll the cobbled streets of Old Town Albufeira, and be captivated by the captivating Bone Church in Faro. Satisfy your palate with delightful wine tasting experiences and food tours that showcase Portugal's culinary delights. For the water lovers, ride the waves with surfing or SUP, and explore the serene beauty of Algarve's coastline. Take a day trip to the charming city of Sevilla, where history and culture await at every turn. And don't forget to delve into the rich history and scenic views at the ancient fortress in Sagres. But hold on, there's so much more to discover! Algarve is a region of endless surprises, where every corner holds a new story. Join us for a journey that promises excitement, culinary delights, and exploration beyond your wildest dreams.
Trip Summary
15 days trip
Albufeira, Faro District
What's excluded?
International Flights
Fuel
Food
Entrances
Road tolls
Why JoinMyTrip?
Trusted platform used by 150K+ TripMates
Have A Question?
Live Chat with our experts 24x7
Unique Trips hosted by Experienced Travellers
Secure Payments to ensure your money is always safe