Slide 1 of 1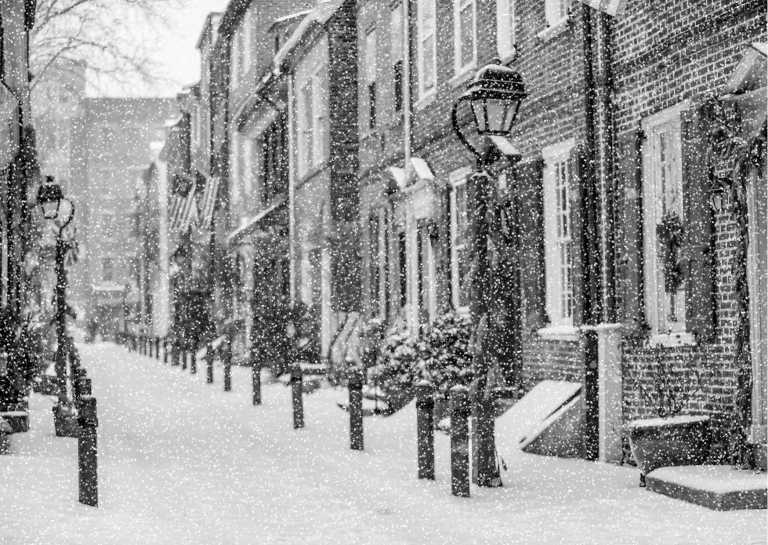 A Magical Christmas Season in Philadelphia: Lights, Hayrides, Villages, Gingerbread Houses, Cinnamon Ornaments, & MORE!
Guided trip
8 days
5 stops
2 - 4 Mates
United States
What's special?
Unique Experiences: Ornament Making
Experienced & Knowledgeable Local w Car
Unique Experiences: Hayride; Lights
Enjoy the most cheerful and colorful time of year in the US - the [Christmas] holiday season! See thousands of beautiful lights dance around you on a hayride, decorate your own Gingerbread house, walk around the charming shops of Peddler's Village, drink hot chocolate while making cinnamon ornaments and mini soap snowmen, view a dazzling Christmas light show with more than three million lights, visit the bustling Reading Terminal Market, attend a special old fashioned Christmas tour of a fully decorated home, and take pictures in front of historical must-sees such as the famous Rocky Balboa statue, the Liberty Bell, the LOVE statue, and Penn's Landing. You'll get to try an authentic Philly cheesesteak, bake delicious Christmas cookies, and enjoy other holiday delicacies. The best part is that you have ME, a friendly native with a car! This means saving money on transportation, as well as having more opportunities to explore the area! You will be personally picked up from the airport, so your transfers are covered (to Philadelphia-PHL only; if you come through Newark-EWR, there is an extra cost). Depending on weather and budget, we can also take an optional train ride (about 1.5 hours) to New York City to see the spectacular Rockefeller tree, Christmas in Times Square, Saks light display, and more.
⭐️ ABOUT ME: ⭐️ My name is Allie, and I have been traveling the world since my first ever plane ride to Ukraine in 2008! I am from New Jersey and have a dream of visiting all 7 continents (1 more to go!). I'm an ESL teacher, pet sitter, singer/songwriter, & transcription editor. I love going to artisan markets, zoos/aquariums, beaches, museums, and other excursions! I also love playing games, especially group games! I'm not a big hiker, but I do love to walk around and sight-see. I also love to dance and experience local nightlife. I am fluent in Spanish and learning Portuguese, as well. I am also a former travel agent and usually know how to find the best prices, so if you would like help booking flights or other travel related things, feel free to ask! :)
⭐️ ACCOMMODATIONS: (included in trip price) ⭐️ We will be staying in a super cozy 2-3 bedroom / 2 bathroom house* that is equipped with everything we need to feel at home, including WiFi, TV, and a porch/terrace! Rooms will be shared, but each person has their own bed. *SUBJECT TO CHANGE BASED ON THE NUMBER OF TRIPMATES ⭐️ OPTIONAL ACTIVITIES: (costs not included in trip price)⭐️ ✨ New York City day trip ⭐️ OTHER INFO: ⭐️ ✨ All adults 18+ welcome (children must be approved) ✨ Bring some cash in USD for any markets ✨ Temperatures in the northeast for December usually range from 30°F to 50°F (-1°C to 10°C). Bring layers, gloves, and a winter coat. ✨ I'm a former travel agent! For help booking travel, send me a message! ✨ I LOVE surprises, so expect some! :) If you have questions about the trip, feel free to message me or ask in the Q&A section! ♡
What's included?
Accommodations
Airport Transfers 🔁 (to/from PHL)
Special Goodie Bag 🛍️
Gingerbread House
Transportation (Car)
Christmas Light Show (in car)
Light Show Hayride
Crafts (soap snowmen; cinnamon ornament)
Peddler's Village
Old Fashioned Christmas House Tour
Your Booking includes free protection from Trip cancellations.
Learn More
Meet Your TripLeader
Phone Verified
Identity Verified
14 Countries
2 Trips Completed
Friendly & Fun Singer/Songwriter/Pet Sitter/ESL Teacher ♥️
based on 2 reviews
Show All Reviews
You can chat with Alexandria once you reserve your spot.
Trip Itinerary
Philadelphia
Day 1-8
We will spend the first few days getting to know the area, relaxing in our cozy apartment, and visiting local historical gems like the Liberty Bell, Penn's Landing, LOVE park, the Rocky Balboa statue, and Reading Terminal Market. LOVE park is also where the Christmas Village, Philly's twist on a German Christmas market, is located. While at home, we will also be doing some fun Christmas activities like decorating our own gingerbread houses, making cinnamon ornaments, creating snowmen from soap, and baking Christmas cookies.
Johnson's Corner Farm
Day 8
Johnson's Farm has beautiful Christmas light displays all around, and we will get to view them while riding around in a hayride full of lights that dance to Christmas music! They also have a store full of homemade pies, donuts, sauces, snacks, and more. And if you want a fun picture with Santa to send home, he'll be there, too! :)
Shady Brook Farm
Day 8
Shady Brook Farm's spectacular light show has more than three million lights illuminating acres of farmland. There are all kinds of whimsical displays and familiar characters, and we will enjoy it in the comfort of our own warm car as we sip on hot chocolate!
Peddler's Village
Day 8
Peddler's Village is truly a magical spot (especially around Christmas), and we will get to explore it! As the website says: "Stroll an enchanted Village and sip tasty beverages. Find perfect gifts in 65 specialty shops and boutiques. Enjoy fine dining or casual fare in your choice of restaurants. Ride a 1920s carousel and play in the arcade. See a magnificent display of gingerbread houses. For 60 years, visitors have followed the winding brick pathways of Peddler's Village to experience exceptional dining, lodging, events, and distinctive shopping. With the variety of locally owned stores — clothing and accessories shops, toy stores, candle sellers, booksellers, art and artisan galleries, candy stores, and much more — shopping at Peddler's Village is much more than a quick click or a simple transaction; it's a highly enjoyable personal adventure, complete with holiday fun, helpful conversations, and memorable discoveries. Spend an hour, an evening, or an entire weekend exploring our charming Village. You'll be glad you did!"
Medford
Day 8
This is an experience you won't be able to find anywhere else! We will visit Medford, a woodsy town in South Jersey, nestled between fertile farms and the Federal Pinelands Natural Reserve. In Medford we will be attending a very special (and NOT well known!) old fashioned house tour of the Walker's house. The Walker's are personal friends of mine that are obsessed with everything Christmas! They love Christmas so much that they have almost every inch of their home decorated with THOUSANDS of ornaments, lights, trees, dolls, toys, silverware, and other Christmas trinkets! They even have more lit Christmas trees than the WHITE HOUSE! They will give us all the history of their gorgeous home and huge Christmas collection.
Trip Summary
8 days trip
Philadelphia, Johnson's Corner Farm & 3 more
Transportation
Car, Other
What's excluded?
Flights
Other Activities
Why JoinMyTrip?
Trusted platform used by 150K+ TripMates
Have A Question?
Live Chat with our experts 24x7
Unique Trips hosted by Experienced Travellers
Secure Payments to ensure your money is always safe