Slide 1 of 1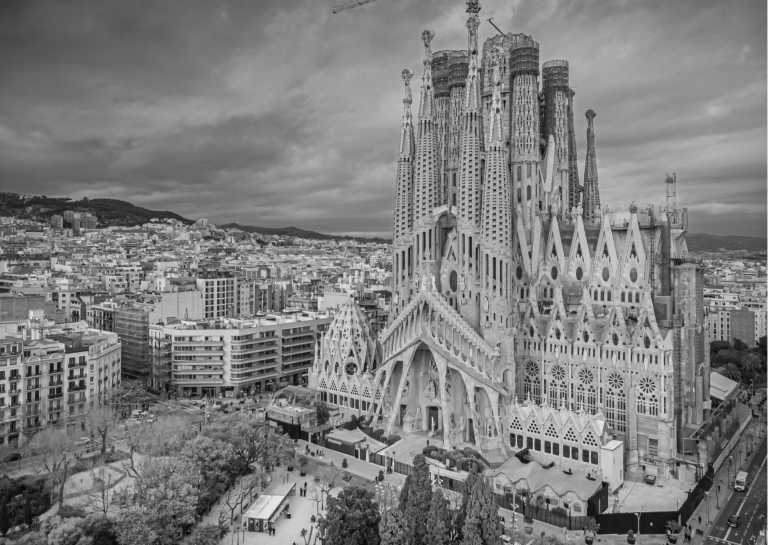 A Feast for the Senses: Barcelona with a Local! A 4-Day Adventure with a Passionate Guide!
Guided trip
4 days
4 stops
3 - 6 Mates
Spain
Are you ready for an unforgettable adventure in Barcelona? Join me and experience like a local the hidden gems that this beautiful city has! 4 DAYS, FROM THE 20 Jul 2023 TO THE 23 Jul 2023. It doesn't matter if you've been before in Barcelona, this trip is like no other! 👌🏼 WHAT ARE YOU GOING TO DO? You will learn how to cook PAELLA while drinking a traditional SANGRIA. You will try¨ TAPAS¨and enjoy a FLAMENCO SHOW. You will marvel at GAUDI's incredible architecture, explore the winding streets of the GOTHIC Quarter & El BORN Quarter, soak up the sun on the BEACHES of BARCELONETA, discover HIDDEN BARS and much more, this trip is full of SURPRISES! Nice to meet you, I'm Paula! I was born in the best city: Barcelona, and I am super excited to share with you a non-traditional visit to the capital of Catalunya. I have lived abroad for a few years and I want to take the opportunity to take you on an incredible journey now that I am back. With me as your tour guide, you'll have insider knowledge of the city and access to the best experiences that Barcelona has to offer: from sipping wine at a hidden ¨special¨ bar to going to the best viewpoints in the city. Nos lo pasaremos super bien! INCLUDED IN THE PRICE: 🥘 Paella class and Sangria 💃🏻 Flamenco show 😍 Gothic and Tapas Tour (tapas excluded) 🤩 Tours: Gracia Quarter, Barceloneta Quarter and El Born Quarter 🗽 The most iconic spots (more than 6 are included in the trip) 💻 Strong Wi-Fi 🥳 Lots of fun! 👉 24/7 at your service. My availability and experience in this exciting city 👉 Free insurance if you have German or Austrian residence 👩‍🍳 Best restaurants, bars & nightclubs map specially prepared for you + free e-book with the best tips to travel in Barcelona. EXCLUDED: ✈️ Flights 🚠 Internal transportation 🏠 Accomodation 🍽️ Some meals OPTIONAL - contact me on the Q&A section for more information 🌅 Paddle surf & Yoga sunrise at the Barceloneta beach ⛵️ Sailing experience 🍷 Wine tasting 🎟️ Park Güell and the most emblematic landmarks tickets Don't miss out on this amazing opportunity to explore Barcelona with a knowledgeable and passionate guide. Book your spot today and let's make unforgettable memories together! Call me if you have any questions! (If there is an activity you don't feel like doing, let me know, I have way more options!)
Your Booking includes free protection from Trip cancellations.
Learn More
Meet Your TripLeader
Phone Verified
Identity Verified
34 Countries
2 Trips Completed
Adventurous traveler, culture enthusiast, and thrill-seeker. Join me on my next adventure and let's make unforgettable memories!
You can chat with Paula once you reserve your spot.
Trip Itinerary
La Sagrada Familia
Day 1-2
Sagrada Família, Casa Mila, Casa Batlló + Tour El Born On the first day of your Barcelona tour, get ready to soak up the city's vibrant culture and history. We'll start with a visit to the iconic Sagrada Família, a breathtaking masterpiece designed by Antoni Gaudi that has been under construction for over a century. Next, we'll head to other landmarks such as Casa Mila, and Casa Batlló. There will be stops on the way. After that, we'll take a stroll down the famous La Rambla, a bustling pedestrian street lined with street performers, artists, and cafes. We'll then head to the Born Quarter, where we'll explore narrow streets and hidden squares filled with history and character. To end our first day, there's a surprise in store for you. I can't give too much away, but I promise it will be an unforgettable experience that will leave you with memories to last a lifetime. As a passionate and knowledgeable local guide, I'm excited to share my love for Barcelona with you and help you discover the city's hidden gems. Get ready to fall in love with this enchanting city and all that it has to offer.
Park Güell
Day 2-3
DAY 2: Paella and Park Güell, Barcelona, Spain On day two of your Barcelona adventure, we'll start with a cooking class where you'll learn how to make the iconic Spanish dish, Paella. We'll go to a local market and pick up all the necessary ingredients, including fresh seafood and vegetables, and then head to a cooking school where we'll start the class. While we cook, we'll sip on traditional Sangria and enjoy the flavors and aromas of the dish coming together. After we finish cooking, we'll sit down and enjoy our delicious Paella. It's the perfect way to experience authentic Spanish cuisine and culture. Next, we'll head to Park Guell, another iconic site designed by Gaudi, where we'll take a leisurely stroll through the park, marveling at the whimsical structures and colorful mosaics. You'll be amazed by the beauty and creativity that Gaudi brought to the park, from the famous dragon statue to the vibrant tiled benches. It is a unique Park. We'll explore the charming neighborhood of Gracia, one of Barcelona's most Bohemian and artistic neighborhoods. We'll stroll through the narrow streets lined with independent shops and cafés, and soak in the creative and lively atmosphere of this unique district. Again, there is a surprise waiting for you at the end of the day!
Montjuïc
Day 3-4
Get ready for an exciting and jam-packed Day 3 of our Barcelona adventure! We will start our day by visiting Montjuic, a beautiful hill that offers stunning panoramic views of the city. To get there, we'll take a scenic ride on the Montjuic cable car, where you can sit back and relax while taking in breathtaking views of the Mediterranean Sea and Barcelona's coastline. Once we reach the top, we will explore the hill and visit some of its famous landmarks. We'll also discover hidden corners and secret gardens that only locals know about. Next, we'll head to one of the best viewpoints in the city, where you'll see the most amazing views of the city and take some incredible photos to remember the trip. After having something to eat in the best restaurant, we'll head back down to the city center and head to the Gothic Quarter, which is the heart of Barcelona's old town, where you'll see beautiful architecture and learn about the city's fascinating history. After enjoying some delicious tapas, we will experience a traditional flamenco show. The flamenco is a passionate and expressive Spanish dance that's full of energy and emotion, and we'll enjoy it in an authentic setting.
Barceloneta Beach
Day 4
Start the day early with an unforgettable experience of surfing at sunrise on the beautiful beaches of Barceloneta. Feel the thrill of catching waves and riding the paddle surf in the peaceful morning waters, an experience that will invigorate your body and soul. After a refreshing surf session, it's time to indulge in some of the best seafood that Barcelona has to offer. We'll visit a local seafood restaurant, where you can try the freshest catches of the day, cooked to perfection. Then, we'll spend the rest of the day relaxing on the beach, soaking up the sun and enjoying the sea breeze. There will be time to explore the charming alleys of Barceloneta, and to try some delicious churros or ice cream. As the day draws to a close, we'll head to a chilled-out beach bar to sip on some refreshing cocktails and take in the stunning views of the Mediterranean Sea. This will be the perfect end to our 4-day trip, as we reflect on all the amazing experiences we've had together.
Trip Summary
4 days trip
La Sagrada Familia, Park Güell & 2 more
Why JoinMyTrip?
Trusted platform used by 150K+ TripMates
Have A Question?
Live Chat with our experts 24x7
Unique Trips hosted by Experienced Travellers
Secure Payments to ensure your money is always safe