Slide 1 of 1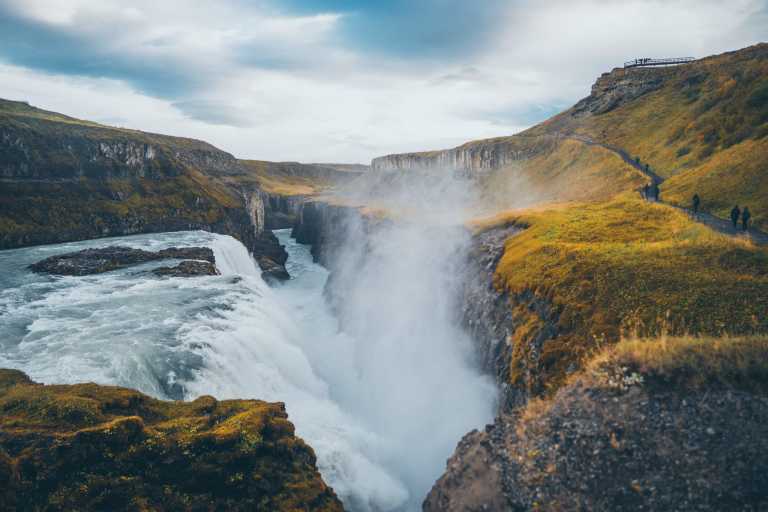 8 days Winter Fairytale in Iceland with Ice cave and Blue lagoon
7 Days30 Days!
Extra Cancellation Days
only for the first TripMate
Guided trip
8 days
26 stops
2 - 8 Mates
Iceland
What's special?
Shark museum
Hot spring bakery
Ice cave tour
Embark on a captivating seven-day winter journey through Iceland's wonders, carefully curated to offer you an unforgettable adventure. During these days, we will: - delve into the vibrant cityscape of Reykjavik, soaking in its rich culture and history. - venture to the mystical Snafellsnes Peninsula, where dramatic cliffs meet the roaring ocean. Taste hakarl - fermented shark. - takes ourself on the iconic Golden Circle route, exploring the breathtaking Gullfoss waterfall, Geysir geothermal area, and the historic Thingvellir National Park. Taste bread from hot spring. - lead you along the mesmerizing South Coast, where black sand beaches and powerful waterfalls await your discovery. - visit Jökulsárlón, a glacial lagoon adorned with floating icebergs, followed by the ethereal Diamond Beach and an enchanting Ice Cave experience. - invite you to the majestic Vestrahorn mountain, a photographer's paradise, capturing the essence of Iceland's raw beauty - relaxing in the Blue Lagoon, immersing yourself in its mineral-rich waters, capping off your Icelandic adventure with rejuvenation. And all of this under the magical Northern lights. This meticulously planned itinerary promises a perfect blend of natural wonders, cultural exploration, and serene relaxation, ensuring you create cherished memories against Iceland's winter wonderland backdrop.
About me: I have immersed myself in the heart of this mystical island for one and a half years. During this time, I have conducted both group and private tours, ranging from multiple-day adventures to single-day excursions. Having completed six circle trips around the island just last summer, I ensure that you experience the most awe-inspiring landscapes, hidden gems, and local secrets.
Accommodation: Get lost in the enchanting beauty of Iceland while indulging in comfortable overnights at 3-star hotels. Wake up to the picturesque landscapes of Iceland from your cozy twin or double room and savor a delightful breakfast spread each morning. Experience the perfect blend of comfort, convenience, and natural wonders as you explore Iceland's breathtaking sights.
What's included?
Transportation according to itinerary
Accommodation 5 nights
Breakfast in the hotels
All entering tickers
Activities according to itinerary
Tickets to Blue lagoon (comfort)
Ticket to ice cave tour
Professional local guide
Your Booking includes free protection from Trip cancellations.
Learn More
Meet Your TripLeader
Phone Verified
Identity Verified
61 Countries
Travel creator for tailor made tours around the World. 📍 Iceland
You can chat with Olha once you reserve your spot.
Trip Itinerary
Reykjavík
Day 1-2
Itinerary: hotel in Reykjavik - Hallgrímskirkja - Rainbow street - Laugavegur street - City hall - Alting - Harpa - hotel in Reykjavik. Experience the vibrant spirit of Reykjavik, Iceland's captivating capital, in a single unforgettable day. We begin our journey by immersing ourselves in the city's rich cultural tapestry. Explore the colorful streets adorned with art installations, cozy cafés, and boutique shops, showcasing Iceland's artistic prowess. We will visit Hallgrímskirkja, the iconic church that graces Reykjavik's skyline, offering panoramic views of the city and the surrounding mountains. Then we will move to Rainbow and Laugavegur streets to see city hall and Parliament house. And of course indulge our taste buds in Reykjavik's culinary scene, savoring fresh seafood delicacies or traditional Icelandic dishes prepared with a modern twist. As the day ends, marvel at the enchanting Northern Lights if you're lucky enough to witness this natural spectacle, painting the sky with hues of green, purple, and blue.
Arnarstapi
Day 2
Itinerary: Hotel in Reykjavik - Arnarstapi - Hellnar - Kirkjufellsfoss - Shark museum - Hotel near Borgarnes This day we will explore Snaefellsnes peninsula. We will visit the local fishing villages Arnarstapi and Hellnar, which were fishing centers in 17&18th centuries. Then we move to one of the many magical waterfalls in Iceland - Kirkjufellsfoss.
Kirkjufellsfoss
Day 2
Kirkjufellsfoss is a captivating natural wonder that beckons adventurers to its enchanting embrace. Nestled in the heart of Iceland, this picturesque waterfall is framed by the majestic Kirkjufell mountain, creating a scene straight out of a fairy tale. With its cascading waters and dramatic backdrop, Kirkjufellsfoss embodies the raw beauty of nature, inviting visitors to immerse themselves in its awe-inspiring presence. A must-see destination for nature enthusiasts and photographers alike, it promises an unforgettable experience amidst Iceland's breathtaking landscapes.
Bjarnarhöfn Shark Museum
Day 2
We will visit The Shark Museum, which will explain the origins of Hakarl - (fermented shark). The National dish of Iceland. We will find out how to cook Greenland shark without being poisoned. At the end, we will taste this unique delicacy.
Borgarnes
Day 2-3
We will stay for overnight near small city Borgarnes. This city is located on a peninsula at the shore of Borgarfjordur fjord. Breakfast is included in the price of accommodation. This city is one of the locations in the movie The secret life of Walter Mitty.
Thingvellir National Park
Day 3
Itinerary: hotel near Borgarnes - Thingvelir - hot spring bakery - Geyser - Gullfoss - Fridheimar - hotel near Hella This day we will explore Golden Circle. National Park Thingvelir is special place for each Icelanders. Because here, Iceland was carved by tectonic plates that created the formation of the country, both geographically and politically. In Thingvelir between two tectonic plates was first Althingi, Vikings made a decision about changing the religion. And in the same place, Iceland got Independence.
Laugarvatn Fontana
Day 3
Indulge your senses in the heart of Iceland's geothermal wonders at the Hot Spring Bakery. Nestled amidst the captivating landscapes, this unique bakery harnesses the natural heat from the country's hot springs to create delectable treats that are as wholesome as they are delicious. Imagine savoring freshly baked bread all crafted with locally sourced ingredients, while surrounded by the soothing warmth of Iceland's natural hot springs. We will taste bread from hot spring (included.
Geysir
Day 3
Geysir - is a famous hot spring in the geothermal area of Haukadalur Valley with second the highest in the world Strokkur geyser. It's renowned for its impressive and reliable eruptions, shooting hot water and steam into the air approximately every 5-10 minutes. With each eruption reaching heights of up to 40 meters, Strokkur captivates visitors with its powerful display of nature's forces. The anticipation and excitement that build up before each eruption make it a must-see attraction for travelers exploring Iceland's geothermal wonders. Strokkur serves as a reminder of the Earth's dynamic energy and the natural wonders.
Gullfoss Falls
Day 3
Gullfoss waterfall is one of the powerful waterfalls in Iceland. Near it, you can feel all might of the nature rumbling through the ground. The name translates like Golden waterfall and it's a two-tiered waterfall that cascades dramatically into a deep gorge.
Friðheimar
Day 3
Fridheimar tomato farm, where you will enjoy the special experience of entering a greenhouse with its fragrance of tomato plants, their delicious foods, and even tomato beer! All expenses paid additionally. On our way, we will stop to feed and pet unique Icelandic horses.
Hella
Day 3-4
Overnight in a near small cute city Hella in hotel with breakfast. Hella's strategic location and serene ambiance make it a popular stop for those venturing through Iceland's mesmerizing landscapes.
Hotel South Coast
Day 4
Itinerary: hotel near Hella - Seljalandfoss - Skogafoss - Vik - Black sand beach - Dyrholey (optional) - hotel near Vik What we will see this day? More of Iceland's famous waterfalls, another black sand beach and if we are lucky, Dyrholey peninsula (depending on weather).
Seljalandsfoss
Day 4
Today we will discover the South cost of Iceland. At the beginning of the day, we will try to walk behind Seljalandfoss waterfall. Plunging from a height of 60 meters, this natural wonder creates a veil of mist and rainbows when the sunlight hits.
Skógafoss
Day 4
Plunging from a height of 60 meters and spanning a width of 25 meters, it's one of the country's largest and most iconic waterfalls. What makes Skogafoss truly captivating is its sheer power and the constant mist that surrounds the area, creating enchanting rainbows on sunny days.
Reynisfjara Beach
Day 4
Then we will move to Reynisfjara black sand beach. This Icelandic beach owes its black color to the nearby volcanoes. During a large number of eruptions, a huge amount of lava poured onto the surface. This lava formed the entire island of Iceland. For many thousands of years, sea waves destroyed coastal rocks, turning lava into magnificent beaches.
Dyrhólaey
Day 4
Visiting of peninsula is optional. Just in case of good weather. The word "Dyrhólaey" translates to "Door Hill Island" in Icelandic, referencing the arch's door-like appearance. Dyrhólaey is also home to a large natural stone arch, which is the result of centuries of erosion by the sea. Besides its natural beauty, Dyrhólaey is a popular spot for birdwatching, especially during the summer months, when puffins and other seabirds nest in the area.
Vik
Day 4-5
Then we will discover the small village of Vik with its famous rock formations named Troll's fingers. They are unique basalt sea stacks that resemble gnarled fingers, adding a touch of mystique to the already captivating Reynisfjara black sand beach near Vik. And will stop here for overnight.
Jökulsárlón
Day 5
Itinerary: hotel near Vik - Fjaðrárgljúfur canyon - Jokullsarlon - Diamond beach - hotel in Hofn In the morning we will drive to an area where blockbuster movies were filmed such as Batman, James Bond and Lara Kroft… Experience the glacier lagoon filled with miniature icebergs and large blocks of ice. This ice lagoon has become one of the most popular attractions in Iceland due to its breathtaking beauty. The lagoon is called Jökulsárlón, or ice lagoon in Icelandic. If we are lucky, we will see seals on icebergs.
Fjaðrárgljúfur
Day 5
It's optional stop. Just if weather allows us. Fjaðrárgljúfur canyon features steep, moss-covered cliffs that rise up to 100 meters in height and meandering trails along its edge. The unique beauty of Fjaðrárgljúfur lies in its serpentine shape, the vibrant greenery that adorns its walls, and the crystal-clear waters of the river below. We will hike along the rim of the canyon to enjoy panoramic views of the surrounding landscape.
Diamond Beach
Day 5
Diamond beach, renowned for its striking black sand beach scattered with glistening icebergs, giving the illusion of diamonds strewn across the shore. These icebergs have broken off from the nearby glacier and float in the lagoon before washing ashore on the beach.
Ice Cave Tours
Day 5
In the afternoon, we will explore an Ice cave! We will see nature created art forms of sculptured ice walls, spires, and clear blue ice walls. Visiting an ice cave in Iceland is a once-in-a-lifetime experience that allows you to explore the breathtaking beauty of nature's frozen wonders. These caves, formed within glaciers, exhibit stunning blue ice formations, intricate patterns, and an ethereal ambiance.
Höfn
Day 5-6
We will stay for overnight in the Hofn. Höfn is the biggest city in region, additionally known for being the one and only lobster capital of Iceland. Dinner in traditional fishing restaurant in Hofn where you can taste of course lobsters, Atlantic tuna, cod, lamb, or even horse for the more adventurous gastronomes (paid additionally).
Vestrahorn
Day 6
Itinerary: Hotel in Hofn - Vestrahorn - Viking village - hotel in Hveragerdi. Deep fjords along the coast are a characteristic feature of East Iceland. Most of the settlements in this area are located on the shores of just such fjords. The shores of the fjords turned out to be a convenient place for harbors, in which numerous fishing vessels were located. In this region we will see "Horny mountain" - Vestrahorn, Eystrahorn and Brunnhorn mountain, aka Batman mountain. It's perfect places for taking pictures of the extraordinary mountains and ocean.
Hveragerði
Day 6-7
And we will have long transfer to Hveragerdi - flower capital of Iceland. Dinner in Viking restaurant with arctic char or local duck and lamb of course (paid additionally). We will stay for overnight in hotel with breakfast.
Blue Lagoon
Day 7
Itinerary: Hotel in Hveragerdi - Blue lagoon - hotel in Reykjavik. On this day we will come back to Reykjavik and will have relaxing day at. The World Famous Blue lagoon. Blue lagoon is one of 25 World miracles, because of its incredible color and pure quality of water.
Reykjavík
Day 7-8
Overnight in hotel with breakfast in Reykjavik. In the evening you will have time to go to local bars, pubs or clubs. Or spend this time buying souvenirs. Time to say Goodbye and plan new meeting and trip.
Trip Summary
8 days trip
Reykjavík, Arnarstapi & 24 more
What's excluded?
International flights
Lunches, dinners
Insurance
Personal expenses
Why JoinMyTrip?
Trusted platform used by 150K+ TripMates
Have A Question?
Live Chat with our experts 24x7
Unique Trips hosted by Experienced Travellers
Secure Payments to ensure your money is always safe