Slide 1 of 1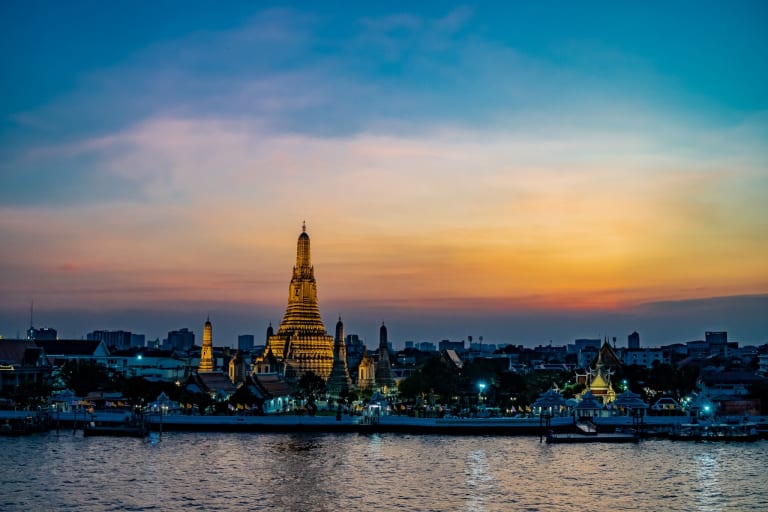 16 days: Exploring the South of Thailand
7 Days30 Days!
Extra Cancellation Days
only for the first TripMate
Guided trip
16 days
7 stops
2 - 8 Mates
Thailand
What's special?
Get to know the local culture
Explore the islands
Sleep in the jungle
Hi! My name is Barbara and since 2014, I have been living as a digital nomad. I write about my experiences around the world on my blog. My focus is on outdoor adventures and work-life balance. In this way, I want to inspire people to start their own journey to freedom and to experience and explore the beauty of nature. As last year, I will spend the coming winter with my husband Toby in South East Asia, mainly in Thailand, one of my favorite places in the whole world. Here's what you can expect from this 16-day trip to Thailand: 🌍 It's going to be a mix of exploring, relaxing, and fun 🌍 We will get to know the local culture and visit temples, and (night) markets (expenses not included) 🌍 We will do some island hopping and explore both – the Andaman side and the Gulf of Thailand 🌍 We will go kayaking, snorkeling, have a hike through the jungle, and go ziplining We're looking for 2 to 7 people to explore Thailand with us to enjoy the sun, have some good conversations, and lots of fun. Let's make this an unforgettable experience! ✨ If you're able to work online check out my coworking/coliving trips! Just click on my trip leader profile to find the other options or send me a message.
About me! I'm Barbara, a travel blogger and digital nomad. When I went to Thailand for the first time, back in 2014, I immediately fell in love with this country. I love the vibe, the community, the culture. Let me take you to see "my Thailand" :D
About the accommodation: We will stay in different kinds of accommodations: - Huts right at the beach - Sleeper trains (a special experience in Thailand!) - A hotel on a boat on a lake in the jungle If you have any questions, you can let me know in the Q&A section! See you in Thailand, Barbara & Toby
What's included?
Airport/Trainstation pickup
15 nights of Accommodation (shared)
Lifelong memories and connections
Travel insurance for Germany/Austria
Your Booking includes free protection from Trip cancellations.
Learn More
Meet Your TripLeader
Phone Verified
Identity Verified
75 Countries
6 Trips Completed
Barbaralicious 🗽 𝗕𝗹𝗼𝗴𝗴𝗲𝗿 📚 𝗔𝘂𝘁𝗵𝗼𝗿 📸 𝗣𝗵𝗼𝘁𝗼𝗴𝗿𝗮𝗽𝗵𝗲𝗿 🌐 75 𝘤𝘰𝘶𝘯𝘵𝘳𝘪𝘦𝘴 📍 now in 🇩🇪
based on 2 reviews
Barbara put together a great trip and took us to places far away from tourism. We were in the middle of the local life what you hope from a trip. Places where you probably would never have found yourself. It was a fantastic time and I can highly recommend Barbara.
Machine Translated
•
Show All Reviews
You can chat with Barbara once you reserve your spot.
Trip Itinerary
You will meet Barbara and the group in Bangkok
Find the best flight details to Bangkok ->
Bangkok
Day 1-4
After everyone's arrival (pick-up organized by us) we will have a welcome dinner. After that you're free to immerse yourself in the local nightlife. On day 2, we will explore Bangkok by boat and visit the famous temples Wat Arun and Wat Pho. Then, there's time to explore the Khao San Road. We will spend the third night of our trip on the night train down to the South of Thailand (included in the price).
Khao Sok National Park
Day 4-6
Once the train arrives, we go straight to the boat, which will take us to our floating hotel in the middle of the jungle! The rustic huts float in the middle of a lake, surrounded by green thickets - an absolute highlight. Here you can get as close to the Thai nature as you want. Besides the breathtaking scenery, you will see many local animals, swim in the clear water of the lake, or go kayaking. The water here is warm and pleasant all year round. After a traditional dinner with freshly caught fish from the lake (also included!) we have something very special planned. We will go kayaking on the lake again, always towards the sunset, listening to the sound of the jungle. We can end the day with a few cool drinks right in front of our cabins.
Phi Phi Islands
Day 6-8
On day 6, we leave early for Krabi, where we take a ferry to the famous, tropical Koh Phi Phi island, the beach paradise of Thailand. After check-in, the afternoon is mainly meant for "taking a deep breath", chilling out, and enjoying (e.g. relaxing on the beach). In the evening, we meet again for dinner in a beach bar. After a few cool drinks with hip music and a (hopefully) pink sunset, we really get down to business: we test why Koh Phi Phi is so notorious for its nightlife. The next day, we go on a trip by boat. We take a longtail boat around the beautiful coasts of Koh Phi Phi, stop for snorkeling at Limestone Reef (lots of exotic fish!), and dock at two gorgeous beach bays (e.g. Pileh Lagoon and Viking Cave), as well as at Monkey Bay (monkeys right on the beach!) before heading back to the hotel. Back on solid ground, we climb to the highest peak of the island, the perfect place to admire the sunset of Koh Phi Phi. Who wants can go out again today, in a trendy beach bar (there we also watch an impressive fire show directly on the beach), or just spend a quieter night? Depending on your mood.
Krabi
Day 8-9
After a relaxing morning on the island of Koh Phi Phi, we take the ferry back to the mainland of Krabi. We check into our accommodation, which is located directly on the beach of Ao Nang. Here you can stroll along the beach promenade, sunbathe on the beach or jump into the cool sea. With its rugged, steep cliffs, the beach of Ao Nang is also one of the most beautiful in the whole region. We spend a relaxing beach day here with the best view.
Ko Pha Ngan
Day 9-11
On day 9, the journey continues to Koh Phangan, known for the world-famous "Full Moon Parties". The drive there is already an experience and there is again a lot to see on the way. The island is one of the most popular hotspots for backpackers in Thailand, so there is always something going on, even if there is no full moon. Your accommodation is again directly on the beach. In the evening, we meet for a few cool cocktails at sunset and the night is open for everything. Depending on the position of the moon, there may be a full moon, half moon, black moon, or other party. The glittering beaches of Koh Phangan are just too beautiful and the nights are just too long not to spend another day here. Relax on the paradisiacal beach, in the pool of your accommodation, or do something you have missed so far (on site there are e.g. also cheap Thai massages). Everyone can do whatever he or she wants on that, there is no fixed program. You can explore on your own or together with others from your group. The tour guide can give you the best tips and show you what is possible. Just a few examples of what you can do today: Swimming, sunbathing, kayaking, snorkeling, water action park, city stroll, hike to the lookout point, waterfalls nearby, and so on (at your own expense).
Ko Tao
Day 11-14
On day 11, we take the ferry to Kho Tao, a mini island that has it all. It is just 6km long but packed with nature and exotic animals. Especially the fantastic underwater world is known worldwide. Whale sharks and manta rays are as much at home here as water turtles. And it is exactly this underwater world that we will see on day 12! We start first thing in the morning for a full-day underwater excursion. Our first stop is the small bay "Ao Luk", with beautiful corals on both sides and a fine sandy beach in the middle - ideal for swimming and snorkeling. Our boat will take us to the quiet and hidden Hin Wong Bay and to another snorkeling spot at Mango Bay before a delicious lunch is waiting for us on board! After that, we take the boat to the even smaller, private island of Koh Nang Yuan, with its absolutely unique shape (looks like 2 "beach roads"). On this whimsical island paradise, we can recover from snorkeling and relax under palm trees before the boat takes us back. By the way, the snorkeling equipment is provided, so you don't need to bring anything! On the last day in Koh Tao, you can relax and/or explore the island on your own (or take a diving trip if you want).
Koh Samui
Day 14-16
We leave the mini island Koh Tao and take the ferry to Koh Samui, Thailand's second-largest island! Koh Samui is known for its special palm splendor, coconut groves, but also culture and relaxed feel-good oases. It will be our home for the next two days. Do you get motion sick? We hope not! Because today it will be really fast, on our jungle action day! We start at a waterfall that is known for its particularly interesting shape and purple color in the background. But of course that's not all... Because right next to the waterfall is the breathtaking zipline route that leads right through the jungle. High in the trees, where normally only the monkeys climb is the starting point. From here we will "fly" on a total of 4 different routes through the jungle, stopping again and again on platforms high in the trees. Hard to believe but our trip has come to an end. Today, unfortunately, it's time to say goodbye. Whether you want to stay longer on Koh Samui, continue your tour in Thailand on your own or go back to Bangkok, we can help you with questions about your further planning. You can also check out my profile to see if I have more (coworking/coliving) trips lined up :)
You will meet Barbara and the group in Koh Samui
Find the best flight details home from Koh Samui ->
Trip Summary
Accommodation
Other & Apartments
16 days trip
Bangkok, Khao Sok National Park & 5 more
Have A Question?
Ask the TripLeader questions about the Trip by clicking on the button below. Your question and the response will be visible on this page once it's answered.
What's excluded?
Food/Drinks
Flights to get to Bangkok
Flight to go back home from Koh Samui
Other personal expenses
Why JoinMyTrip?
Trusted platform used by 150K+ TripMates
Have A Question?
Live Chat with our experts 24x7
Unique Trips hosted by Experienced Travellers
Secure Payments to ensure your money is always safe
Looking for more trips?
Here's some similar trips that you might be interested in.