Slide 1 of 1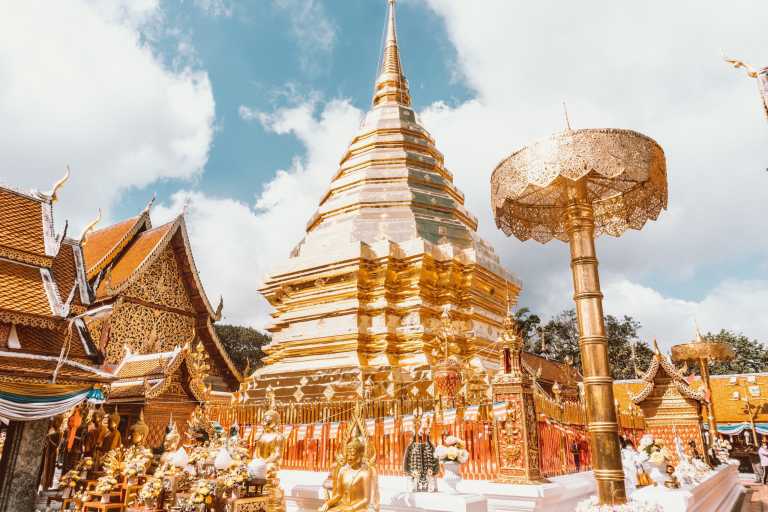 This trip is confirmed to go.
1 Week in Chiang Mai: Experience the Magic of the Festival of Light Loy Krathong and the Local Festival Yee Peng
Guided trip
8 days
3 stops
2 - 4 Mates
Thailand
What's special?
Experience Loy Krahtong & Yee Peng
Get to know the local culture
Explore Chiang Mai & Northern Thailand
Hi! My name is Barbara and since 2014, I have been living as a digital nomad. I write about my experiences around the world on my blog. My focus is on outdoor adventures and work-life balance. I totally love Thailand and have been learning the language for four years now. Want to spend some time there with people who know their way around? Maybe this trip is for you then! As last year, I will spend the coming winter with my husband Toby in Chiang Mai, one of my favorite places in the whole world. Additionally, during this trip, you will be able to experience Loy Krathong, the Thai festival of light. It's a breathtaking experience and especially beautiful in Chiang Mai because it coincides with the local festival Yee Peng. Here's what you can expect from this coworking trip in Chiang Mai: 🌍 We will explore Chiang Mai (old town & surroundings) 🌍 We will get to know the local culture and visit temples, and night markets (expenses not included) 🌍 Up for some dancing fitness? I'm a certified Zumba® instructor! 🌍 Wanna work out together or do yoga? We have lots of space to get fit together! We're looking for 2 to 5 people to join us in Chiang Mai to have lots of fun together and explore Northern Thailand. Also, November is the BEST time to visit Chiang Mai! Let's make this an unforgettable experience! ✨ If you want to save money or join with a friend: The house has a bedroom with two beds (single beds). Send me a message if you're interested in this option.
About me! I'm Barbara, a travel blogger and digital nomad. When I went to Chiang Mai for the first time, back in 2016, I immediately fell in love with this city. I love the vibe, the community, the area itself. Normally, I'm more of an island person but Chiang Mai stole my heart although it's not close to the beach.
About the accommodation: We will stay in a villa just outside of Chiang Mai town (15 minutes' ride to Old Town). - You will have your private room with its own bathroom and aircon - There is a big pool for communal use - There is a big outside table to cowork, chill, eat, etc. - There is a kitchen where we can cook (Toby loves to cook!) - There are several fresh markets just 10 minutes' walking distance - There is a cute café for coworking or chilling just 5 minutes walking distance If you have any questions you can let me know in the Q&A section! See you in Chiang Mai, Barbara & Toby
What's included?
Airport/Trainstation pickup
Accommodation with own bathroom
WIFI in the house and a local sim card
Swimming pool access
Lifelong memories and connections
Travel insurance for Germany/Austria
Your Booking includes free protection from Trip cancellations.
Learn More
Meet Your TripLeader
Phone Verified
Identity Verified
75 Countries
6 Trips Completed
Barbaralicious 🗽 𝗕𝗹𝗼𝗴𝗴𝗲𝗿 📚 𝗔𝘂𝘁𝗵𝗼𝗿 📸 𝗣𝗵𝗼𝘁𝗼𝗴𝗿𝗮𝗽𝗵𝗲𝗿 🌐 75 𝘤𝘰𝘶𝘯𝘵𝘳𝘪𝘦𝘴 📍 now in 🇩🇪
based on 3 reviews
Show All Reviews
You can chat with Barbara once you reserve your spot.
Trip Itinerary
Chiang Mai
Day 1-4
We will have a 5-bedroom house (every bedroom has its own bathroom) with a pool and a kitchen for our time in Chiang Mai. It's a 15-minute drive to Old Town, which we will visit several times to see the temples and the famous night markets. I have several activities (e.g. a cooking class, a hike to the mountain Doi Suthep, visiting the waterfalls around Chiang Mai, etc.) that are optional to do, I've tried all of them and I can guarantee you these are the best things to do here :)
Doi Saket District
Day 4
Nestled amidst the picturesque landscapes of Northern Thailand, Doi Saket unfolds as a captivating destination for tourists seeking a tranquil escape and cultural immersion. This charming district, situated just a short drive from Chiang Mai, enchants visitors with its lush greenery, serene temples, and authentic Thai village life. Doi Saket is renowned for the iconic Wat Phra That Doi Saket, a striking hilltop temple offering panoramic views of the surrounding countryside. Travelers can explore vibrant local markets, where the flavors of traditional Thai cuisine come alive, or engage in hands-on experiences such as rice farming, showcasing the region's agrarian heritage. The warmth of the local community, coupled with the beauty of Doi Saket's natural surroundings, makes it an ideal destination for those seeking an off-the-beaten-path adventure, where the cultural richness of Thailand unfolds in an unhurried and authentic manner.
Chiang Mai
Day 4-8
Then, there will be the celebrations of Loy Krathong, the festival of light, a unique and wonderful experience! (on my blog, I wrote about it: https://barbaralicious.com/loy-krathong/) We'll spend another 3 days in Chiang Mai. The trip ends here and I will bring you back to the airport. If you stick in the area, you can also book our next trip in Thailand and join us for some more exploring and coworking!
Trip Summary
Accommodation
Other & Apartments
8 days trip
Chiang Mai, Doi Saket District & 1 more
What's excluded?
Food/Drinks
Activities/Trips
Other expenses
Flights/other means of transport/taxis
Why JoinMyTrip?
Trusted platform used by 150K+ TripMates
Have A Question?
Live Chat with our experts 24x7
Unique Trips hosted by Experienced Travellers
Secure Payments to ensure your money is always safe