Slide 1 of 1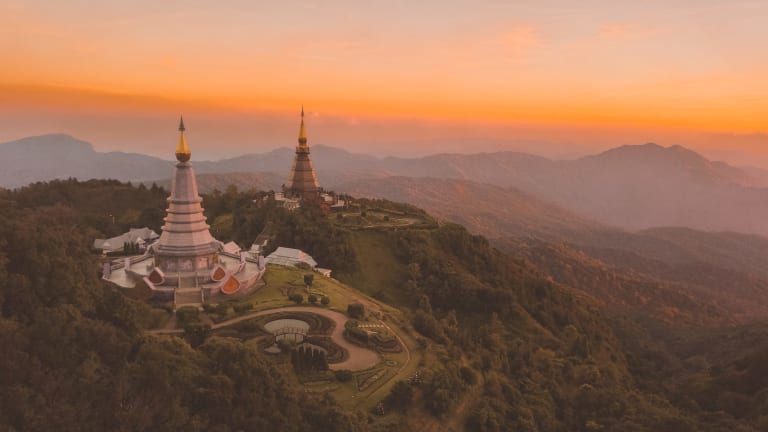 26 Days: CoWorking in Chiang Mai 💻 Hidden Gems, and Knowledge Sharing in Thailand
7 Days30 Days!
Extra Cancellation Days
only for the first TripMate
Coworking trip
26 days
7 stops
2 - 4 Mates
Thailand
What's special?
Experience Loy Krahtong & Yee Peng
Get to know the local culture
Explore Chiang Mai & Northern Thailand
Hi! My name is Barbara and since 2014, I have been living as a digital nomad. I write about my experiences around the world on my blog. My focus is on outdoor adventures and work-life balance. In this way, I want to inspire people to start their own journey to freedom and to experience and explore the beauty of nature. As last year, I will spend the coming winter with my husband Toby in Chiang Mai, one of my favorite places in the whole world. Additionally, during this trip, you will be able to experience Loy Krathong, the Thai festival of light. It's a breathtaking experience and especially beautiful in Chiang Mai because it coincides with the local festival Yee Peng. Here's what you can expect from this coworking trip in Chiang Mai: 🌍 It's going to be a mix of work, trips, and fun 🌍 Mastermind sessions, brainstorming ideas, or sharing knowledge or skills (I'm happy to share my experience of 10 years as a digital nomad and 15 years of being self-employed) 🌍 There are several areas to sit and work, e.g. a big table outside 🌍 During the days, you will be able to decide whether you want to go out and explore or stay at the villa to get work done, have a swim in the pool, or socialize with the others 🌍 We will check out some nice coworking cafés, too (expenses not included) 🌍 We will go on trips around Chiang Mai and Chiang Rai (see the schedule below) 🌍 Several board games and one Nintendo Switch will be available (for individual use or game nights) 🌍 We will get to know the local culture and visit temples, and night markets (expenses not included) 🌍 Up for some dancing fitness? I'm a certified Zumba® instructor! 🌍 Wanna work out together or do yoga? We have lots of space to get fit together! We're looking for 2 to 7 open-minded remote workers to join us in Chiang Mai for some coworking in the sun, inspiration, motivation, good conversations, connections, and lots of fun. Also, November is the BEST time to visit Chiang Mai! Let's make this an unforgettable experience! ✨ If a month is too long for you, you can only book two weeks! Just click on my trip leader profile to find the other options. If you want to save money or join a friend: The house has two bedrooms with two beds (one with two normal-sized beds and one with a queen-size and a regular-sized bed). Send me a message if you're interested in these options.
About me! I'm Barbara, a travel blogger and digital nomad. When I went to Chiang Mai for the first time, back in 2016, I immediately fell in love with this city. I love the vibe, the community, the area itself. Normally, I'm more of an island person but Chiang Mai stole my heart although it's not close to the beach.
About the accommodation: We will stay in a villa just outside of Chiang Mai town (15 minutes' ride to Old Town). - You will have your private room with its own bathroom and aircon - There is a big pool for communal use - There is a big outside table to cowork, chill, eat, etc. - There is a kitchen where we can cook (Toby loves to cook!) - There are several fresh markets just 10 minutes' walking distance - There is a cute café for coworking or chilling just 5 minutes walking distance If you have any questions you can let me know in the Q&A section! See you in Chiang Mai, Barbara & Toby
What's included?
Airport/Trainstation pickup
Accommodation with own bathroom
Coworking & Skillshare Sessions
WIFI in the house and a local sim card
Swimming pool access
Lifelong memories and connections
Travel insurance for Germany/Austria
Shared Accommodation during the Trips
Your Booking includes free protection from Trip cancellations.
Learn More
Meet Your TripLeader
Phone Verified
Identity Verified
75 Countries
6 Trips Completed
Barbaralicious 🗽 𝗕𝗹𝗼𝗴𝗴𝗲𝗿 📚 𝗔𝘂𝘁𝗵𝗼𝗿 📸 𝗣𝗵𝗼𝘁𝗼𝗴𝗿𝗮𝗽𝗵𝗲𝗿 🌐 75 𝘤𝘰𝘶𝘯𝘵𝘳𝘪𝘦𝘴 📍 now in 🇩🇪
based on 2 reviews
Barbara put together a great trip and took us to places far away from tourism. We were in the middle of the local life what you hope from a trip. Places where you probably would never have found yourself. It was a fantastic time and I can highly recommend Barbara.
Machine Translated
•
Show All Reviews
You can chat with Barbara once you reserve your spot.
Trip Itinerary
You will meet Barbara and the group in Chiang Mai
Find the best flight details to and from Chiang Mai ->
Chiang Mai
Day 1-6
We will have a 5-bedroom house (every bedroom has its own bathroom) with a pool and a kitchen for our little coworking & coliving adventure. It's a 15-minute drive to Old Town, which we will visit several times to see the temples and the famous night markets. During the first days of our coliving experience, there will be the celebrations of Loy Krathong, the festival of light, a unique and wonderful experience! (on my blog, I wrote about it: https://barbaralicious.com/loy-krathong/) I have several activities that are optional to do on the weekends we can explore, I've tried all of them and I can guarantee you these are the best things to do here :)
Chiang Dao
Day 6-8
Chiang Dao is a little north of Chiang Mai. We will spend the weekend in a village called Mae Mae where we will sleep one night in a TreeHouse and the other night on a camping ground in the national park with a breath-taking view. We spend the day hiking through the jungle and sipping Ulong Tea on a local Tea Plantation learning more about the local culture.
Chiang Mai
Day 8-12
The itinerary is very flexible, so if you have any bucket list destinations or activities, do let me know. 💕 Optional: ✔️ Have a Thai cooking class Want to learn how to grow vegetables and tasty herbs from the garden? And how to cook delicious Thai food? Let's have a Thai cooking class! Optional: ✔️ Wat Phra That Doi Suthep If you are in Chiang Mai, you will hear many people talking about Doi Suthep. Most people mean the Buddhist temple or temple complex Wat Phra That Doi Suthep, where the last two words of the name refer to the mountain on whose slopes the area is located. From Chiang Mai, it is 15 kilometers to the sacred site, where you can experience the local culture and at the same time enjoy a great view of the valley. Around it stretches the Doi Suthep-Pui National Park with its 261 square kilometers area. ✔️ The Monk Trail The Monk Trail is a hiking trail that takes about 45 minutes. It brings you from the end of Suthep Road to Wat Pha Lat. From there you can go on hiking to reach Doi Suthep.
Mueang Chiang Rai
Day 12-14
Let's spend the weekend in Chiang Rai and in the Maesalong mountains with a local community called Akha. ✔️ In Chiang Rai we will visit the famous White Temple Chiang Rai is the northernmost province of Thailand, and it is filled with the atmosphere of the mountain range and the Lanna Culture. Wat Rong Khun, better known as "the White Temple" is one of the most recognizable temples in Thailand. ✔️ Then we will head to the mountains and spend two nights at the Akha Mudhouse, a homestay almost entirely made of mud. We will enjoy amazing views, learn about the culture, and plant a tree together.
Chiang Mai
Day 14-19
Optional:​ ✔️ Go on a ziplining day trip through the jungle of Chiang Mai We will spend a day amongst the trees of Chiang Mai, zip-lining. It can be enjoyed by people of all ages and experience levels. So it's a perfect group activity!
Doi Saket District
Day 19-21
✔️ Let's go to Doi Saket Doi Saket is quite close to the place where our villa is. We will stay on a self-sustainable farm for 2 nights. We have a little cooking class and enjoy the peaceful rice paddies, relax, and let's explore the temples of Doi Saket.
Chiang Mai
Day 21-26
Optional: ✔️ Take an SUP tour on the Ping river From the water, you will be able to explore: - Local life along the riverbank - Chiang Mai's first church - The oldest Chinese temple - Riverside homes and restaurants - Local markets - Numerous little cruise boats - The ancient house - One of the oldest temples - Floating café - Iron Bridge - Nawarat Bridge (Lantern Festival Area)
Trip Summary
Accommodation
Other & Apartments
26 days trip
Chiang Mai, Chiang Dao & 5 more
Transportation
Car, Other
Have A Question?
Ask the TripLeader questions about the Trip by clicking on the button below. Your question and the response will be visible on this page once it's answered.
What's excluded?
Food/Drinks
Activities/Trips
Other expenses
Flights/other means of transport/taxis
Why JoinMyTrip?
Trusted platform used by 150K+ TripMates
Have A Question?
Live Chat with our experts 24x7
Unique Trips hosted by Experienced Travellers
Secure Payments to ensure your money is always safe
Looking for more trips?
Here's some similar trips that you might be interested in.