Slide 1 of 1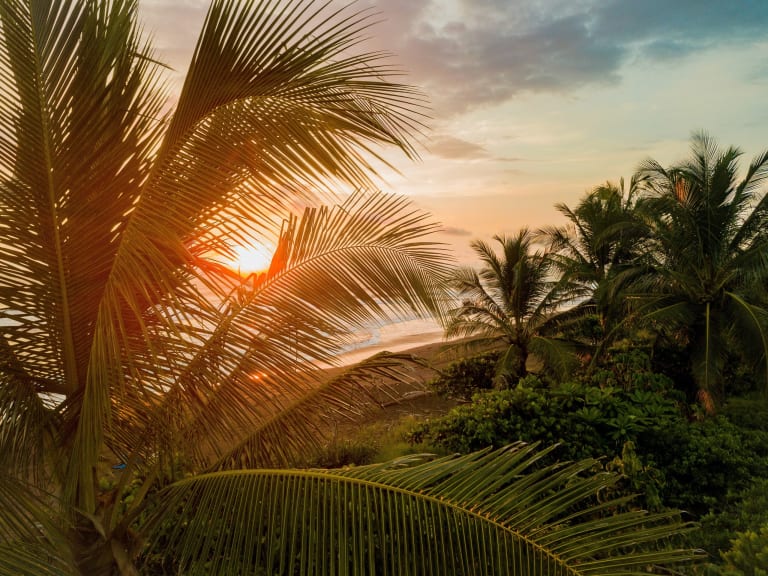 The Trip of a Lifetime: From Enchanted Rainforest to Pristine Beaches in the Heart of Costa Rica with a Local
7 Days30 Days!
Extra Cancellation Days
only for the first TripMate
Guided trip
7 days
4 stops
5 Mates
Costa Rica
What's special?
Professional video and photos of trip
ENG/ESP speaking local guide
Personal Driver
Embark on an unforgettable journey through the breathtaking landscapes of Costa Rica, where lush jungles and pristine beaches await your exploration. Prepare to be captivated by the enchanting wonders of nature as you delve into the heart of this tropical paradise. Your adventure begins with a visit to the mesmerizing hot springs near the majestic Arenal Volcano. Immerse yourself in soothing thermal waters, surrounded by the lush greenery of the rainforest, as you unwind and rejuvenate in nature's embrace. As twilight descends, prepare for an exhilarating night tour through the depths of the jungle. With the guidance of a knowledgeable local, you'll navigate through the mysterious trails, immersing yourself in the symphony of exotic sounds and the vibrant energy that awakens after dark. Witness the magical sight of nocturnal creatures coming to life, from elusive creatures hidden among the foliage to enchanting bioluminescent wonders illuminating your path. Get ready for a cascade of awe-inspiring moments as you venture to magnificent waterfalls nestled within the verdant jungle. Feel the exhilaration as you stand in awe of the sheer power and natural beauty of these cascading wonders. Capture breathtaking photos, cool off with a refreshing swim, or simply immerse yourself in the serene surroundings while creating lasting memories. Prepare to share the shores with playful and mischievous monkeys as you visit pristine beaches that serve as their natural habitat. Marvel at their acrobatic displays, as they swing gracefully from branch to branch, adding an extra touch of magic to your beachside experience. Feel the soft sand between your toes, soak up the warm sun, and surrender to the tranquility of these picturesque coastal paradises. Embark on a thrilling expedition where the rhythmic sounds of the wilderness surround you. Observe the incredible diversity of flora and fauna, and keep your eyes peeled for a glimpse of the awe-inspiring crocodiles in their natural habitat. This up-close encounter with these ancient reptiles will leave you in awe of their power and magnificence. Join us on this remarkable journey where adventure and serenity seamlessly intertwine. Let Costa Rica's jungle and beach paradise enchant your senses and ignite your spirit of exploration. Embark on an expedition like no other, guided by a local expert, and create memories that will stay etched in your heart forever.
About me: I am a 34-year-old photographer and videographer from Costa Rica who has traveled across the country looking for the best experiences this tropical paradise has to offer. I am excited to share with you the wonderful places I have fallen in love with. I will use my skills and create a video of our trip together so that we can remember and cherish this trip for years to come. Expect a video like the one found below in the Highlights section.
Details about the accommodation: We will stay exclusively in hotels where breakfast is included, so we can focus on getting on the road as soon as possible. Even though I plan to spend most of the days outside, I still value comfortable places to rest, so that each day can be enjoyed as much as possible. Expect air conditioning, a pool, TVs, and WiFi. Do you have any questions? You can let me know in the Q&A section! If not we can have a call to share more details about the trip! See you soon in Costa Rica!
What's included?
Single bed in rooms of 2-3 people
Transportation
Breakfast
Entrance fees to National Parks
Night tour in the jungle
Baldi Hot Springs
Zipline or Horseback or ATV tour or Boat
Your Booking includes free protection from Trip cancellations.
Learn More
Meet Your TripLeader
Phone Verified
Identity Verified
18 Countries
I am a 34 year old photographer and videographer who loves to meet new people and travel the world.
You can chat with Sebastian once you reserve your spot.
Trip Itinerary
You will meet Sebastian and the group in San José
Find the best flight details to and from San José ->
San José
Day 1-2
Our first stop is at San José, where we will rendezvous and get to know the capital of Costa Rica. We will have our first dinner together, get to know each other, and share our expectations of the trip ahead of us. In bed early for an early departure the day after.
La Fortuna
Day 2-3
We take the road to the northern part of the country, where we are greeted by the Colossus that is Arenal Volcano. If we are lucky and the skies are clear, the giant can be seen looming over La Fortuna town. Here we will visit La Fortuna Waterfall, a beautiful blue waterfall in the heart of the Rainforest, where we can take a swim and refresh ourselves. We will visit the Baldi Hot Springs and when the sun goes down, we will explore the jungle in the middle of the night with a guided tour in search of wildlife.
Parque Nacional Manuel Antonio
Day 3-6
On day 3 of our adventure we will travel to the Pacific. On the way we will stop at crocodile infested Tarcoles river to see the ancient reptiles that dwell in its waters. We continue south towards Manuel Antonio National Park. This is where we will spend most of our trip. Manuel Antonio will serve as our headquarters for our Pacific adventure. On day 4 we will visit the interior of the National Park, where pristine beaches are home to monkeys and other wildlife that coexist with the visitors. The park has several trails that can be explored, and beaches where we can rest and enjoy in the blue waters. After sunset we can explore the nightlife of Manuel Antonio. This day will have plenty of leisure time so that we can relax. Several activities can be hired outside the park like parasailing. On day 5 we will entertain our adventurous side with an adrenaline filled experience. We can choose between Ziplining, ATV tours in the jungle, Horseback riding or a boat tour in search of dolphins. We will have the rest of the day to spend at the beach, drink cocktails, watch the sunset and rest. On day 6 we will visit what to me is one of the most beautiful places in Costa Rica, Nauyaca Waterfalls. This is an 8km (5 mile) hike to the waterfall, where we can take amazing pictures and swim in the refreshing waters. We then return to San José.
San José
Day 6-7
We return to San José and spend the night in a comfy hotel with a pool close to the airport. We can explore once again the nightlife of the capital, get to know more about the pura vida lifestyle and say goodbye. The next day, a shuttle will take you back to the airport.
Trip Summary
7 days trip
San José, La Fortuna & 2 more
Have A Question?
Ask the TripLeader questions about the Trip by clicking on the button below. Your question and the response will be visible on this page once it's answered.
What's excluded?
International Flights
Visa fees (if applicable)
Food (other than breakfast)
Personal Expenses
Why JoinMyTrip?
Trusted platform used by 150K+ TripMates
Have A Question?
Live Chat with our experts 24x7
Unique Trips hosted by Experienced Travellers
Secure Payments to ensure your money is always safe