Slide 1 of 1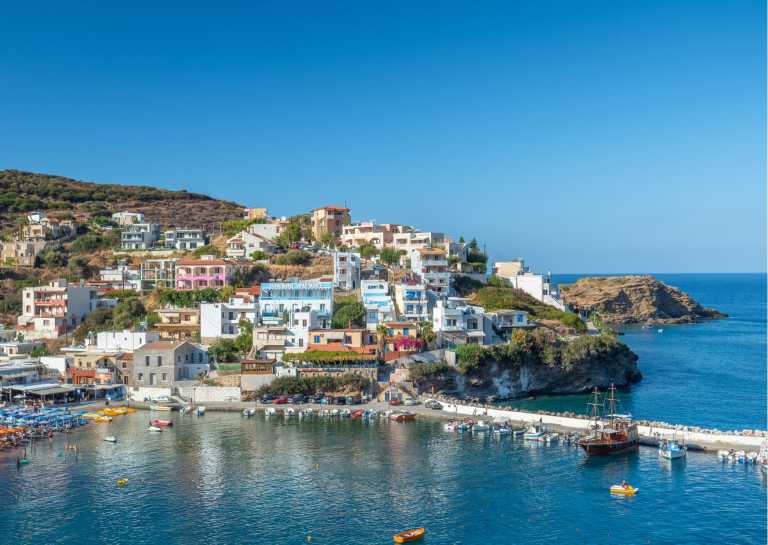 Crete Adventure 2024: Chania to Agios Nikolaos - Experience Greece with Traditional Greek Night in Mid-August
Guided trip
8 days
4 stops
4 - 8 Mates
Greece
What's special?
Traditional Cretan Night
Embark on a dreamy week-long vacation in paradise where every day is an adventure waiting to unfold. Get ready for a journey that includes beach hopping, cultural immersions, and meaningful encounters with the locals, all at a comfortable and enjoyable pace. We'll kick off this unforgettable experience in Chania, the starting point of our Crete exploration. From here, we'll venture from the west to the east of the island, uncovering its treasures along the way. Our itinerary is designed to offer the best of each destination: In Chania, we'll indulge in a day trip to the breathtaking Falassarna Beach and relish the charming streets of the city in the evening. Our journey continues to Rethymno, where we'll visit the enchanting Preveli Beach and take in the sights of Rethymno's evening ambiance. In Heraklion, you'll have the pleasure of a morning swim, followed by an evening of immersing yourself in the traditions of Crete during a Traditional Cretan Evening. The following day is all about flexibility – explore the wonders of Heraklion, delve into the history of Knossos, or embark on an optional day trip to the mesmerizing Santorini. Our final stop, Agios Nikolaos, promises a fittingly beautiful and atmospheric conclusion to our journey. Throughout this adventure, our focus is on authentic experiences. We're dedicated to connecting with locals and embracing their way of life. This isn't just a trip; it's a journey into the heart of Crete, where every moment counts and every memory is treasured.
About me! My name is Dino, and I'm half English, half Greek. We moved as a family to Crete when I was 9 years old, and grew up there. Today, I live in Croatia 9 months, and in Greece 3 months a year. I have been working as a Trip Leader since 2014, and lead tours from Venice in Italy, through Slovenia, Croatia, Bosnia and Herzegovina, Serbia, Montenegro, Albania and Greece, to Athens and Crete. Together let's create experiences, feeling as if we are walking through history, catching the aromas of each city, tasting the authentic local cuisine, and feeling the vibe of each city. Imagine a sunset, a glass of wine, a group of friends. Capturing a perfect moment.
Details about the accommodation: Apartments near the sea, for a great experience, we will be tenting 1-2 cars for the week (price NOT included; price range from 30 euros to 60 euros per day). Every 2nd day changing city, and exploring the best beaches and experiences on Crete! 2 nights in Chania 2 nights in Rethymno 2 nights in Heraklion 1 night in Agios Nikolaos. From these apartments, with a rent a car, we'll visit key places within 60 min driving distance. 1 meal included: Traditional Cretan Evening (Heraklion) In general, I suggest 1 cooked meal per day, to keep expenses low, and our energy levels high! If you have questions you can let me know in the Q&A section! If not see you soon in Greece!
What's included?
Traditional Cretan Night
Travelling with a local
Accommodation (Shared rooms)
Your Booking includes free protection from Trip cancellations.
Learn More
Meet Your TripLeader
Phone Verified
Identity Verified
15 Countries
Come and explore the world with me, and engage all your senses...
You can chat with Konstantinos (Dino) once you reserve your spot.
Trip Itinerary
Chania
Day 1-3
Chania is a beautifully picturesque city on the northwest coast of the Greek island of Crete. It's known for its 14th-century Venetian harbor, narrow streets and waterfront restaurants. At the harbor entrance is a 16th-century lighthouse with Venetian, Egyptian and Ottoman influences. As a location, Chania is equally famous for its nearby stunning sandy beaches. Arrival in Chania. Next day: Day trip to Falassarna (Or Elafonissi due to weather) Optional: If you are an avid hiker, you can do the Samaria Gorge instead
Rethimno
Day 3-5
Rethymno, or Rethimno, is a city on the north coast of the Greek island of Crete. In the old town, the Venetian Harbor is filled with fishing boats and lined with tavernas. Rethymno Lighthouse was built in the 1830s. West, the hilltop Fortezza is a star-shaped, 16th-century citadel. Rethymno is a perfect location, mid-island, for some amazing day trips. We'll be going to Preveli, on the southern side of the island. It has a little stream, and one of the last remaining Palm Tree Beaches on the island.
Heraklion
Day 5-7
Heraklion, also known as Iraklio, is a port city and the capital of the Greek island of Crete. It's known for the Palace of Knossos, just outside the city. The huge archaeological site dates back thousands of years to the Minoan civilization, and includes frescoes and baths. Guarding the city's Venetian port is the 16th-century Koules fortress. On our way to Heraklion, we're going to stop and visit my parents, for a swim and for a lunch with locals. Then we will head out for a Cretan Night, with traditional Cretan music, line dancing and experience. The next day we have a day to explore. Options include: Day trip to Santorini (normally 120 - 150 euros), Knossos & Archaological Museum (16 euros combined), or just explore the centre of Heraklion.
Agios Nikolaos
Day 7-8
Agios Nikolaos, our final stop on this captivating journey through Crete, offers a unique blend of natural beauty, historic charm, and a relaxed atmosphere, making it a must-visit destination. Situated on the picturesque Gulf of Mirabello, Agios Nikolaos is known for its serene azure waters, stunning beaches, and an inviting waterfront promenade.
Trip Summary
8 days trip
Chania, Rethimno & 2 more
What's excluded?
Transportation (and fuel)
Entrance to museums
Meals
Why JoinMyTrip?
Trusted platform used by 150K+ TripMates
Have A Question?
Live Chat with our experts 24x7
Unique Trips hosted by Experienced Travellers
Secure Payments to ensure your money is always safe